New PEUGEOT 208 shows off its youthful side with its distinctive sporty shape Its interior reveals the original PEUGEOT i-Cockpit® 3D. Lastly, this city car gives you the freedom to choose a petrol, diesel or electric engine.
ATHLETIC AND SENSUAL DESIGN
New PEUGEOT 208 has a strong personality that is revealed at the first glimpse. Its low shape, with the long bonnet and sensual curves reveals its seductive sporty side. With its bright and original bodywork colours, new 208 really catches your eye! Its strong personality is underscored by a Black Diamond roof, glossy black wheel arches and window weatherstrips, and diamond-cut wheel rims with inserts.
BOLD & DARING
The expressive front end of new PEUGEOT 208 boasts a large chrome grille, with a modern and breezy look with its full LED headlights with 3 claws and its LED DRL, always switched on. The rear end has a distinctive style, with the glossy black cross strip, and is adorned with full LED* headlights with 3 claws, switched on day and night.
DRIVE STATION
JUMP IN NEXTGEN TECHNOLOGY
PEUGEOT i-Cockpit® 3D
Inside, discover the new, latest-generation PEUGEOT i-Cockpit® 3D Experience agile and intuitive driving with the compact steering wheel with built-in controls, the configurable 3D Digital Instrument panel, the large 10" HD touch screen and the 7 "Toggle switches" Lastly, customize your interior ambience with the 8 LED RGB colours for an even more modern look.
Advanced connectivity
– Let yourself be guided by the connected navigation system comprising TomTom® Traffic services and use the Mirror Screen Triple Play function to use your favourite applications.
– In addition to keyless starting, ADML PROXIMITY offers automatic unlocking of doors as you approach new PEUGEOT 208, and automatic locking as you walk away from the vehicle, confirmed by a sound signal. If the key is on you, no need to touch the door handles for your 208 to lock!
– Stay connected with your e-208 through the MyPeugeot application: You stay constantly updated on the level if charge, the remaining autonomy, the remaining charge time…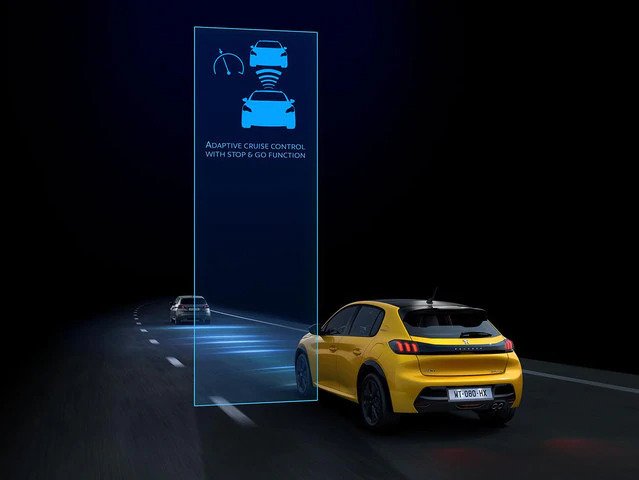 Moving towards semi-self-driving
With the new city car PEUGEOT 208, you have a number of smart and secure assistants. Driver assistance systems are available to you such as PEUGEOT Drive Assist:
– trajectory monitoring with choice of position in the lane
– road sign recognition
– speed regulation and safety distance
And parking assistance is available, such as the Full Park Assist assistant, which automatically parks the vehicle.
New e-208
ADVANTAGES
ELECTRIC ENGINE
Driving pleasure
100% electric driving delivers new sensations:
A smooth drive without jolts
Sharp acceleration thanks to immediate engine torque
A silent engine
0g CO2 emissions in driving phase
Save money
Save money thanks to:
Energy cost lower than fuel
Low cost of use thanks to reduced maintenance
A VRT rebate of up to €5,000.
SEAI Grant of up to €5,000
SEAI grant of €600 for home charging point installation by the ESB.
Toll savings of up to €500 per year.
Use of ECO mode
New mobility
With new PEUGEOT e-208 simplify your life with:
Fast and intuitive charging
MyPeugeot®   Service application that allows remote management of certain features such as pre-positioning
DISTINCTIVE DESIGN
New electric engine
The engine power of 100 kW (136 hp) and the 260 Nm available torque from 0 km/h ensure a wonderful driving experience on the road in a quiet and comfortable cocoon.
High-performance battery
The new e-CMP electrified modular platform was developed to incorporate a high-voltage battery with large capacity of 50kWH while preserving space on board and boot volume. The battery is guaranteed 8 years, 160,000 km for 70% of its charge capacity.